De ce sa asculti muzica Rock?
Muzica rock este de obicei descrisa ca fiind o muzica dura, edgy care este cantata cu chitare electrice, bass si tobe. Rock-ul a aparut undeva prin anii '40 pe cand genurile la moda erau country si jazz, al caror sunet s-a schimbat complet prin incorporarea chitarei electrice si ritmuri puternice de baterie. In anii '70 muzica rock a devenit un stil maistream preferat de mase. Astazi insa rock-ul este umbrit uneori de stilurile pop mainstream pe care le auziti zilnic pe posturile de radio, canale social-media sau TV.
Chiar daca stilul rock a avut deseori o reputatie proasta, exista inca foarte multi fani ai genului care se bucura de o piesa rock de calitate. Mai jos vei gasi cateva motive pentru care sa ascult muzica rock \m/.
Muzica rock este atemporala
Se spune ca muzica buna nu imbatraneste niciodata, iar cand vine vorba de rock si metal acest lucru este dovedit. Muzica este o arta frumoasa ce nu imbatraneste.
Extista melodii rock de la The Beatles, Rolling Stones si AC/DC care nu vor iesi niciodata din stilul colectiv si care sunt foarte puternic redate si in zilele noastre. Este ceva inedit despre modul in care muzica rock te face sa te simti si sa gandesti. Oamenii prefera sa asculte rock clasic cu sens real decat versurile regurgitate fara nici o semnificatie reala ale cantecelor pop din zilele noastre. Acesta este unul dintre motivele pentru care ascultatul melodiilor rock vechi si noi nu va fi niciodata invechit.
Muzica rock are un mesaj profund
Stilurile rock si metal au un inteles foarte profund cu o legatura emotionala aparte cu fanii sai fata de alte stiluri. Cand oamenii asculta muzica, acestia vor sa rezoneze cu stilul rspectiv. Daca cineva este trist nu vrea neaparat sa asculte muzica fericita si inaltatoare.

Vrea sa auda muzica unde se vorbeste despre ceea ce simt. Multi oameni asculta
rock
pentru ca se pot raporta cu adevarat la cuvintele rcantate sau rostite. De multe ori, ascultatori de stiluri non-rock nu pot trece de puterea vocilor din melodii si nici macar nu ii dau o sansa. In realitate strigatul este cel mai bun mod prin care iti poti exprima emotiile. Screaming-ul permite scoaterea in eveidenta a unor trairi interioare aparte. Atunci cand asculti piese rock iti poti da seama de unde vin trairile artistului.
Muzica rock salveaza vieti
Muzica are cu adevarat efecte diferite asupra oamenilor, acestia fiind foarte puternic infulentati de muzica pe care o asculta. Deoarece rock-url vorbeste cu adevarat despre emotiile ascultatorilor sai a fost cunoscuta ca o adevarata salvatoare de vieti. Multe melodii din genul rock si metal au fost scrise cu scopul de a impiedica adolescentii si adultii sa iti puna capat zilelor. Alte piese vorbesc ascultatorilor sai in speranta de ai scapa de probleme sau de a le trata cu putere. Acest lucru serveste un scop mult mai uman decat melodii care au versuri despre nu stiu.. bani, masini, droguri si brand-uri scumpe de imbracaminte :-)) Desi uneori aceste subiecte sunt intanlite si in versuri ale genului rock, aici sunt tratate pentru a depasi anumite dependente, in speranta de a arunca lumina asupra acestor tipuri de probleme, ajutand oamenii sa scape de demonii lor.
Muzica rock este versatila
Crezi sau nu, muzica rock se potriveste pe gustul ricui, deoarece exsta genuri rock pe care orice le poate asculta precum pop, emo, jazz, rap rock etc. Exista atat de multe subgenuri incat este aproape imposibil sa gasesti doua trupe sau artisti care sa sune identic ceea ce in anumite stiluri populare este des intanlita aceasta problema. Astazi melodiile populare au aceleasi beat-uri si versuri repetitive. Una dintre cele mai versatile trupe din toate timpurile este The Beatles. Beatles au atins mai mult de cinci stiluri diferite cu muzica lor. Unele dintre cele mai versatile melodii ale acestora sunt "Slow Down", "Inside you" si "Helter Skelter". Abilitatea de a incorpora diferite sunete si genuri intr-o singura piesa nu poate fi executate cu nici un alt gen muzica cum poate fi muzica rock.
Concluzie
Muzica rock face doar oameni fericiti si intotdeauna este o idee buna sa faci ceea ce-ti place. Personal imi place sa ascult muzica rock + subgenurile legate, sa fac foto si sa editez chestii. Intrucat aceste activitati ma fac fericit vreau intotdeauna sa le includ ain activitatile zilnice. Acesta este motivul pentru care oamenii asculta muzica rock, pentru ca ii face fericiti. Faceti tot ceea ce va face sa fiti fericiti.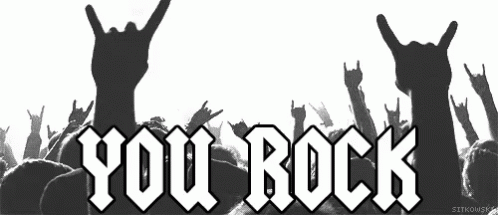 Sustine proiectul => Contemporary-Establishment
Servicii Foto-Video => https://bit.ly/2NHdcIX
Colaborari foto => facebook.com/TurcuDanielAlexandru
Intra in comunitatea sustinatorilor de arta contemporana printr-un Like paginii de Facebook